You've been to conferences. You've taken a class with your local guild. The classes were good, you enjoyed them, but now you're looking for something more. You'd like more one-on-one instruction, so you can take your weaving to a new level. Now would be the perfect time to sign up for a Tablet Weaving Master Class with John Mullarkey.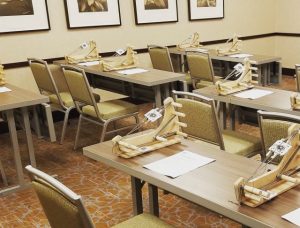 Master Tablet Weaver
In his 15 years as a tablet weaver, John has mastered both double-faced techniques, including 3/1 broken twill, Egyptian diagonals, basic threaded-in patterns, and more. He is perhaps best known, though, for his willingness to push tablet weaving outside its historical boundaries.
His bands have won multiple awards and have been featured in international fashion shows and at the Missouri History Museum. You see his work regularly in Handwoven magazine. Because he is interested in making weaving more accessible to a wider audience, he developed the Schacht Zoom Loom, wrote 3 tablet weaving books, and produced 2 instructional DVDs.
What to Expect from a Tablet Weaving Master Class
When you sign up for a Tablet Weaving Master Class with John, you will study weaving intensively in John's private studio in St. Louis with up to 2 of your friends. You and your friends don't have to be master tablet weavers to benefit. You'll work with John to create a curriculum that is designed just for your needs.
You could choose to learn a new technique like double-faced tablet weaving; double-card, double-turn diagonals; or Anglo-Saxon patterns. Or maybe you'll choose to learn how to design your own patterns or to study the secrets of color matching. It's up to you. And best of all, you study at your own pace, without the pressure of trying to finish a class project.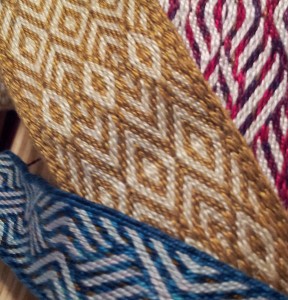 Master Instructor
John has been a popular weaving instructor for over 10 years. He's a good teacher because he's also a curious learner. He studied backstrap weaving in Guatemala and has talked about tablet weaving techniques with Otfried Staudigel; John still takes multiple classes every year. As an avid learner, he's keenly aware of what makes for good teaching: patience, clarity, and organization.
He has taught popular classes at Sievers School of Fiber Arts, John C. Campbell Folk School, and at guilds and conferences around the U.S. He has also taught tablet weaving in Canada and the Netherlands. His classes fill up quickly and his students return time and again to study with him.
Instruction that is Relaxed but Intensive
You'll start your day by reviewing the curriculum over coffee or tea and pastries, then begin three hours of private instruction. You'll break for lunch at one of the diverse restaurants in the neighborhood (Italian, Thai, Vietnamese, Persian, Moroccan) or work with John to have lunch delivered to the studio.
In the afternoon, you'll have another three hours of private instruction that includes a snack break. If you sign up for a multiple day class, your evenings are your own. You can practice your new skills in your room or explore St. Louis, with tips from John on things to see and do.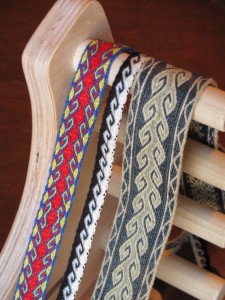 In sum, when you enroll in a Tablet Weaving Master Class, you'll travel to St. Louis for private lessons from John in his personal studio. Your private lessons will follow the curriculum that you and John designed to meet your learning objectives. You'll stay in a place of your choosing, either a hotel room or an apartment within walking distance of John's studio. You'll have classes for 6 hours each day, either alone or with no more than 2 of your friends.
You'll get the direct, intensive instruction that you've been looking for. You'll take your skills to a new level. You'll feel more confident in your weaving.
You won't find an opportunity for personalized instruction on tablet weaving anywhere else.
Sign up today. With John's travel schedule, there are a limited number of slots available for private instruction in St. Louis.